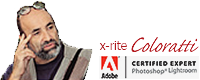 Author of the book, "The Optimum Digital Exposure", Bob will continue this path and discuss how to optimize Processing the Digital Image. He will take us through the PhotoCycleTM – from capture to artistic expression.
Bob will show the 4 Phases of Processing the Digital Image that will get you closer to your intended photographic expression. With many aspects of the digital process automated using machine intelligence, Bob will demonstrate how you can control each phase of the digital process and why the digital PhotoCycleTM Starts and Ends with you!
It would be helpful to me if you could leave a comment below about:
> what part of the talk you found most helpful?
> what, if any, part would you like more info about?
Thanks, Bob DiNatale email@bobdinatale.com
Comments on Bob's Talk: …To see recorded talk [Click Here]
"This was one of the best LR UG SF presentations I have attended. Appreciated Bob's in depth knowledge and ability to convey that to the audience. He cleared up a number of things I had always been confused about with respect to color. His website is a gold mine of information." – Jan L.
"I found your presentation exceptional and found some applications you mentioned useful. Wished you had some more time. Hopefully we'll see you again in the future." – Ronald